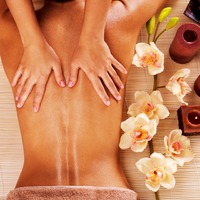 Holistic Massage Treatment came into existence August 2017, while still under training with Holistic Massage Training School at Quatre Bornes - Mr Harry Juggiah and Mr Ashok Siboo - being my tutors, helped me a lot in achieving what I am today.
Today, I proudly present myself as a qualified Massage Therapist. Main Therapies performed are: Swedish Massage - Swedish Massage refers to a variety of strokes such as Effleurage, Petrissage, Friction, tapotement etc.
Aromatherapy - is a gentle but effective method of healing and enhancing the mind, body and spirit through the use of natural oils from aromatic plants, trees and grasses.
Shiatsu - Ancient oriental technique using the principles of yin and yang and different manipulative movements to balance the vital flow of energy such as stretching, pressure points and manipulation.
Foot Reflexology is an extremely effective form of massage, the basis of which relates to reflex points on the sole of the foot. These pints coincides with each organ and system in the body and are linked to those organs by energy channels called zones or meridians. When illness or imbalance occurs the corresponding energy channels become blocked so foot reflexology massage aims to remove these blocks thus allowing the energy to flow freely.
Crystals healing: Crystals have been used throughout all of history as a source of healing power. Ancient cultures all over the world used healing crystals and stones to align, clear and transform their energy, spirit and physical health.

Other types of healing: Reiki and Pranic Healings.
Holistic Massage aim and vision is to provide relief to all those in pain and is suffering from any non-cancerous disease. Furthermore, it is to educate others about its benefit of not having any adverse effects and is safe to perform rather than taking medicines/drugs.
I've had several opportunities to work with local and international clients, very satisfied with the service I rendered them. As a reference, each client filled a massage intake form and questionnaire for customer satisfaction review. Furthermore, you may review the FB page for more details about client satisfaction.